We are working on converting our conference into a virtual event. 
Stay tuned! We will update you as soon as possible!
Dutch conference on ElectroChemical Conversion & Materials (ECCM) 25 June 2021
It is clear that in our future, energy systems such as renewable electricity will play a main role in the transition to a low carbon energy supply. This transition will be facilitated by CO2 targets determined by national governments and will require extensive electrification. In the future, however, there will still be a need for other fuel sources (for aviation, shipping and heavy road transport) and for chemical products and materials. These activities and associated production processes are now responsible for more than 35% of global CO2emissions. The big challenge that remains is to produce these fuels and chemical products through the use of renewable electricity, starting from biomass and/or CO2.
In addition, solutions are needed to solve the imbalance between production and consumption of electricity. These solutions lie in connecting networks and production capacity (interconnection), organizing an optimal balance of supply and demand, and in the direct storage of electrical energy. Storage of electricity in batteries or similar systems is an option; electrochemical production of chemicals as an energy carrier is another option. Electrochemical conversion is a promising option for long-term storage as this technology is easily scalable to the amount of energy.
During the conference, the state-of-the-art discoveries in science and technology will be shared by international key notes from academia and industry. Dutch scientists and industry representatives will contribute to an appealing parallel programme related to the theme of the conference. 
Date: Friday 25 June 2021
Participation: free 
Not yet on the ECCM mailing list? Please subscribe here.

Language: English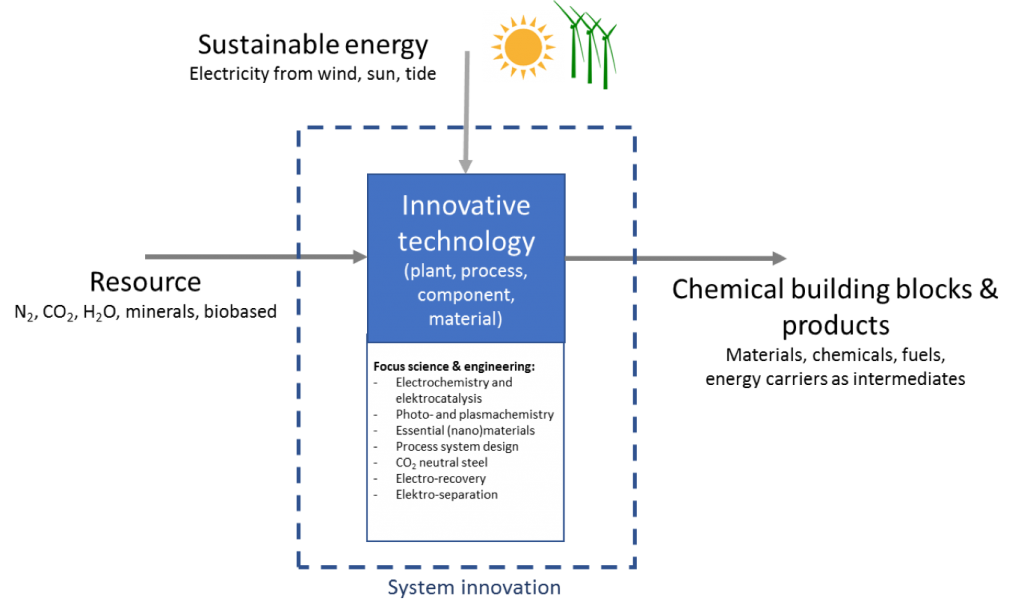 Advisory committee for Electrochemical Conversion & Materials
Prof. dr. Richard van de Sanden (chair Dutch Institute for Fundamental Energy Research, DIFFER), director DIFFER Plasma physics & chemistry
Prof. dr. Bernard Dam (Delft University of Technology), Mateirals for Energy Conversion & Storage
Prof. dr. Earl Goetheer (TNO), Principle scientist Sustainable Process & Energy Systems
Prof. dr. Gert-Jan Gruter (Avantium), Chief Technology Officer
Prof. dr. Petra de Jongh (Utrecht University), Inorganic Chemistry & Catalysis
Prof. dr. Marc Koper (Leiden University), Electrochemistry
Ir. Geert Laagland (Vattenfall), Head of Engineering
Prof. dr. Guido Mul (Twente Universityt), Photocatalytic synthesis
Ronald Wolf (Shell)
Ir. Ton Peijneburg (VDL Enabling Technologies Group), Systems Engineering
Dr. John van der Schaaf (TU/e), Chemical reactor engineering
Drs. Marco Waas (Nouryon), Director RD&I and Technology Industrial Chemicals
Dr. Hans van der Weijde (Tata Steel), Programmamanager Electrochemistry and CO

2

 reduction
Dr. Ellart de Wit (HyGear), Chief Technology Officer
Background information on the ECCM advisory committee
The Advisory Committee for Electrochemical Conversion & Materials (ECCM) advises the Dutch government to make the transition to a CO2 neutral industry based on intermittent sustainable energy generation, storage and conversion. The committee was established by the top sectors HTSM, Energy and Chemistry, with support from NWO and TNO and in collaboration with the Ministries of Economic Affairs & Climate Policy (EZK), the Ministry of Education, Culture and Science (OCW) and the Dutch National Research Agenda (NWA).
ECCM is the cross-sectoral theme to achieve the above-mentioned transition objective. The committee coordinates efforts in the field of ECCM at national level, by initiating new cooperation initiatives and by adopting initiatives that fit within the scope of the advisory report that the committee has published. From a national perspective, the committee advises the government on what efforts are needed to collaborate throughout the innovation chain.
In addition, the committee is busy building an ECCM community of knowledge institutions, companies, governments and NGOs. To this end, the committee organizes conferences in the field of ECCM and an annual graduate school. More information: www.co2neutraalin2050.nl.