Jan-jaap Aué, Hanze University of Applied Sciences Groningen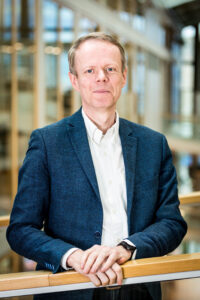 During my PhD in Materials Sciences at the University of Groningen  (1997) I became interested in bridging science and industry.  After my PhD I joined KPN Research till 2002 and TNO till 2009. In 2009 I joined the Hanze University of Applied Sciences as Dean of the school of Life Sciences, later becoming Dean of the School of Engineering. 
I have been responsible for the development of an interdisciplinary applied researchgroup on the Energy Transition, leading to the establishment of EnTranCe | Centre of Expertise Energy in 2012. In 2018 I was also appointed as full time professor (Lector) on Hydrogen Applications.
EnTranCe | Centre of Expertise Energy has been ranked amongst the Dutch top 3 of Centres of Expertise by the ' reviewcommissie Hoger Onderwijs'.Our interdisciplinary research group was given the ' excellent' judgement on the topic of profile and programming by the NVAO committee auditing our group in 2017.
The Centre of Expertise Energy has 11 professors (Lectoren) working with 35FTE of staff in the following (applied) research area's;
Sustainable Mobility;
Sustainable gasses and hybrid fuels;
System-Integration;
Local en regional energy strategies:
Decarbonising industry.